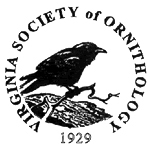 With financial assistance from the Virginia Society of Ornithology, the Center for Conservation Biology has completed a digital library of all issues of The Raven. The digital library includes text-searchable, pdf versions of 84 volumes of The Raven from 1930 through 2013.
The Raven is more than the scientific journal of the Virginia Society of Ornithology, it chronicles the birds of the state, what is known about these birds and the history of the organization from its beginnings in 1930 to the present. It is our hope that this fantastic resource will lead to greater exploration and protection of birds in our region.
Below are links The Raven pdf issues, arranged by decade, from 1930 to 2013. Please be patient waiting for each pdf file to load, as they are large image files (some up to 85 MB). Click here to download an updated free version of Adobe.