Primary contributor: Reese Lukei, Jr., CCB Research Associate
Description: Learn more about EagleTrak
Project Partners: Norfolk Botanical Gardens, Nuckols Tree Care, Inc.
---


Primary contributor: Reese Lukei, Jr., CCB Research Associate
Description: CCB's Eagle Nest blog was created to compliment EagleTrak by providing a distinct place to discuss eagle breeding behavior, separate from satellite tracking data discussions at the EagleTrak blog.
Project Partners:  Live NBG camera feed made possible by: WVEC Television (WVEC), the Norfolk Botanical Garden (NBG), and the Virginia Department of Game & Inland Fisheries (VDGIF).
---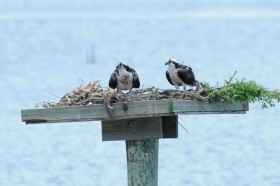 Primary contributor: Libby Mojica
Description: The OspreyTrak project ran from 2013 – 2014. Learn more about OspreyTrak here.