OBJECTIVES
To create a national registry for bald eagle communal roosts. Roost locations are identified through analysis of eagle tracking data, information from state agencies, and literature searches.
To provide roost locations to regulatory agencies, land managers, and other professionals to improve the protection and management of roosts.
[easy_image_gallery]
---
PROJECT DESCRIPTION
Communal roosts play an important role in the life cycle of non-breeding eagles and are specifically protected in the "disturb" clause of the Bald and Golden Eagle Protection Act. State and federal regulatory agencies are currently unable to adequately protect eagle roosts because of a lack of information on roost locations and roost usage. We created a National Eagle Roost Registry that addresses this information gap critical for protecting non-breeding eagles. The registry provides information needed by agencies to enforce the National Bald Eagle Management Guidelines.
Communal roosts are protected under the Bald and Golden Eagle Protection Act (BGEPA) (16 U.S.C. 668-668d) under the working definition of the "disturb" clause. "Disturb means to agitate or bother a bald or golden eagle to a degree that causes, or is likely to cause, based on the best scientific information available, (1) injury to an eagle, (2) a decrease in its productivity, by substantially interfering with normal breeding, feeding, or sheltering behavior, or (3) nest abandonment, by substantially interfering with normal breeding, feeding, or sheltering behavior" (72 FR 31131). Disturbance at known roosts can be minimized or avoided with distance buffers, time of year access restrictions, and time of day restrictions.
Communal roosting behavior is common in non-breeding Bald Eagles (adults and sub-adults) within eagle concentration areas. Rather than roosting individually, birds often form communal roosts where several to several hundred individuals roost together within a relatively confined space. Number of individuals in a roost vary by location and regional population size but can range from 50 eagles in Florida (Curnutt 1992), 100 eagles in the Chesapeake Bay (Watts and Mojica 2012), and up to 500 eagles in the Pacific Northwest (Keister et al 1983).
Disseminating information on communal roost locations and usage enables regulatory agencies to protect this critical resource for bald eagles and comply with BGEPA. Knowledge of roost locations can prevent loss of roosts from tree harvest in forestry management activities, human intrusion, and other preventable disturbance activities.
State or Province
Roosts Identified
United States
Arizona
8
California
52
Colorado
25
Delaware
40
Florida
45
Illinois
28
Indiana
3
Iowa
10
Kentucky
15
Louisiana
1
Maine
5
Maryland
622
Michigan
6
New Jersey
14
New York
26
North Carolina
8
Oregon
78
Pennsylvania
49
South Carolina
2
Tennessee
1
Utah
2
Vermont
1
Virginia
150
Washington
291
West Virginia
2
Wisconsin
3
Canada
New Brunswick
18
Newfoundland and Labrador
1
Nova Scotia
2
Ontario
6
Quebec
24
Total
1,538
---
CCB Mapping Portal
Roost Centroids, Polygons, and Buffers:
You can view eagle roost data in the CCB Mapping Portal. Use the Layer Chooser on the left to select eagle roosts. Clicking on the roost will open a dialogue box with that roost's information:
Roost Code – unique roost identifier
Roost Name – local landmark name or closest road
Status – "Confirmed" roosts have 2 or more telemetered eagles using the roost or ground observations confirm the location as communal; "suspected" roosts have only one telemetered eagle using the site but ground observations are needed to confirm usage; "Not in use" indicates the substrates are still present but eagles are not using them to roost; "destroyed" roosts have been documented as no longer having substrate available for roosting (i.e. logging or storm damage)
Reporting Agency – agency providing data on the roost
Coordinates – centroid coordinates of the roost polygon in WGS 1984 decimal degrees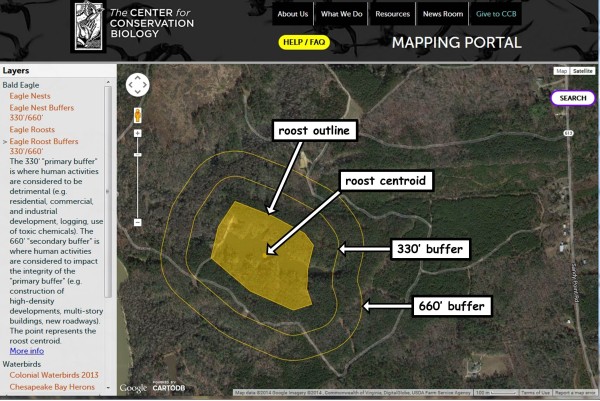 Click here to view the eagle roost centroid layer in the CCB Mapping Portal >>
#Roost by Topoquad:
You can also view the number of known roosts by topoquad in the "Eagle Roosts by Topoquad" layer. Currently, this layer only covers the United States.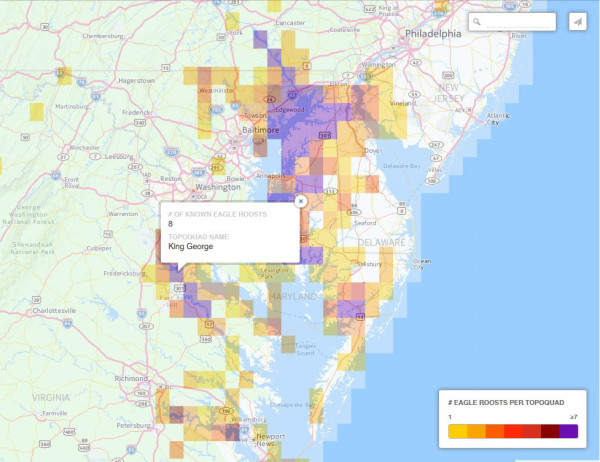 Click here to view the eagle roost topoquad layer in the CCB Mapping Portal >>
For more information on using the Mapping Portal, visit the Mapping Portal FAQ page. If you are interested in accessing eagle roost data, read the CCB Data Distribution Policy. Please contact us with roost locations to add to the National Eagle Roost Registry. Contact: Bryan Watts bdwatt@wm.edu (757) 221-2247
---
Regulatory Contacts
Bald Eagles are sensitive to human disturbance and humans should avoid approaching an eagle roost. Please contact your local US Fish and Wildlife Service field office if you have questions about the impact of human activities around an eagle roost.
U. S. Fish and Wildlife Service
Field Office Directory http://www.fws.gov/offices/
National Eagle Management Guidelines
---
Project Information
Years: 2007-2016
Status: Complete
Project Partners: U.S. Fish and Wildlife Service, American Eagle Foundation, U.S. Department of Defense, Florida Fish and Wildlife Conservation Commission
CCB Staff: Libby Mojica, Bryan Watts, Mitchell Byrd
Project Contact: Bryan Watts bdwatt@wm.edu (757) 221-2247