OBJECTIVES
To create a registry for shorebird roosts throughout the Western Hemisphere (Pacific and Western Atlantic Flyways). An initial list of roost locations has been compiled from published papers, tracking data and observations. The growth and success of the registry depends on contributions of information from observers throughout the Hemisphere with knowledge of their local roosts.
To provide roost locations to regulatory agencies, land managers, and other professionals to improve the protection and management of roosts.
---
PROJECT DESCRIPTION
Communal roosts are essential landscape features for most shorebirds within both winter grounds and migratory staging sites. Roost sites typically provide a balance between proximity to profitable foraging areas and safety from predators. Roosting together provides birds with safety in numbers and possibly access to shared information about critical resources. Communal roosts may be ephemeral congregations of birds that form to exploit short-lived food resources or may be used for decades. Roosts may be used by dozens of birds or hundreds of thousands of individuals. Roosts may be used by single species during a single season or by several species throughout the year. Whatever the circumstances of use, acceptable roost locations are frequently rare on the landscape and their loss may have significant conservation implications.
Two central objectives of roost management are 1) to seek alternatives for actions that may alter the physical structure of roost sites and 2) to avoid disturbances that may affect the ability of individuals to use them. Both of these management objectives require that we first know the location and seasonality of communal roosts. We have developed an international shorebird roost registry for the Western Hemisphere that is intended to address a significant information gap. The registry provides information needed by agencies, land managers and conservation groups to protect roost sites.
---
REQUEST FOR INFORMATION
The shorebird roost registry is incomplete. Thousands of shorebird roosts occur throughout the Western Hemisphere that are known by local bird watchers, researchers and conservation groups. Help us to compile this local information into an international resource that can become a tool for land managers. When submitting a roost please provide the following information:
Basic information needed to designate a shorebird roost:
Roost name
Roost location
Coordinates:

Latitude and longitude (in decimal degrees)

Seasonality of use:

Fall Migration, Spring Migration, Winter, Summer, Year-round

Known occupancy: years when roost was known to be occupied
High tide roost? Y/N/Unknown
Night roost? Y/N/Unknown
List of shorebird species present (quantity of each if known)
Total number of birds present:

Categories: <1k, 1-10k, 10-100k, >100k

Comments about the site
Source information: person(s) providing the information and/or a citation they would like posted with the data provided.
Please email roost information to Laura Duval at lsduval@wm.edu.
---
CCB MAPPING PORTAL
You can view shorebird roost data in the CCB Mapping Portal here.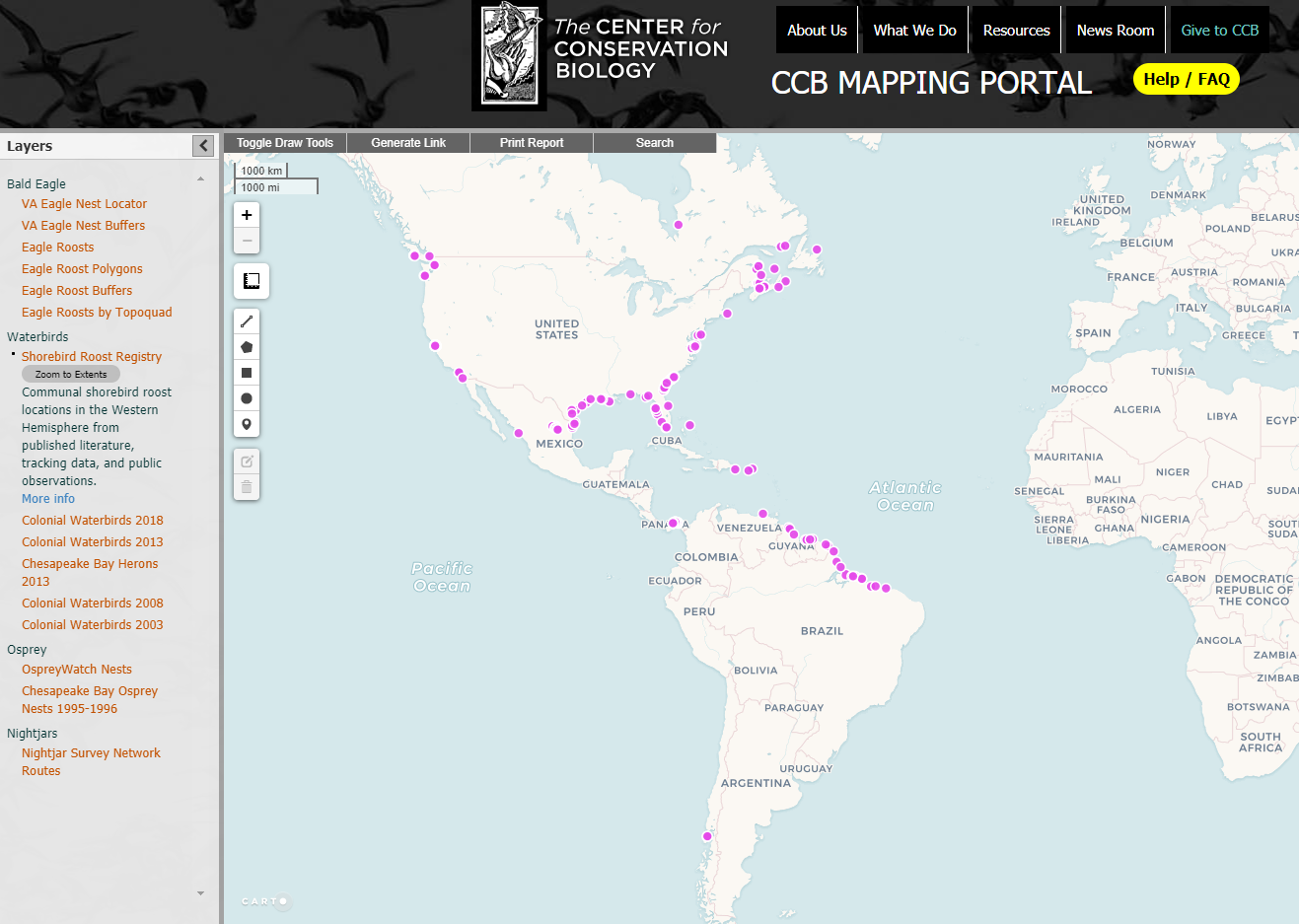 For more information on using the Mapping Portal, visit the Mapping Portal FAQ page. If you are interested in accessing shorebird roost data, start by reading the CCB Data Distribution Policy.
---
Project Information
Years: 2019 – ____
Status: Ongoing
Project Partners: National Fish and Wildlife Foundation, The Center for Conservation Biology, William & Mary
CCB Staff: Bryan Watts, Fletcher Smith, Bart Paxton, Chance Hines, Laura Duval, Marie Pitts
Project Contact: Bryan Watts, bdwatt@wm.edu, 757-221-2247