Welcome to the Virginia Bald Eagle Nest Locator!
The Center for Conservation Biology (CCB) has created a Google Maps application to allow users to locate documented eagle territories in Virginia. CCB encourages the use of our data sets in wildlife conservation and management applications, but as a professional courtesy we ask that data users read and agree to the full terms of our Data Use Agreement. By viewing the Eagle Nest Locator on this site you agree to the Data Use Agreement and Terms of Use for VaEagles Nest Locator.
In 2012, CCB modified the area surveyed for the Virginia bald eagle nest survey. The information presented in this online map presents the most recent data CCB has on eagle nests in Virginia. If you are using this site for management purposes, we highly recommend confirming the status of every nest before proceeding with activities that may affect eagles. We encourage you to contact regulatory agencies (listed below) about questions you may have about eagle management on your property. All data/maps used according to this agreement should be cited using the following text:
Watts, B. D. and M. A. Byrd. 2013. Virginia bald eagle nest survey: 2013 breeding season. Center for Conservation Biology, College of William and Mary and Virginia Commonwealth University, Williamsburg, VA.
---
CCB Mapping Portal
You can view the Eagle Nest Locator data in the CCB Mapping Portal. Use the Layer Chooser on the left to select eagle nests, eagle nests with a 330′ buffer, or eagle nests with a 660′ buffer.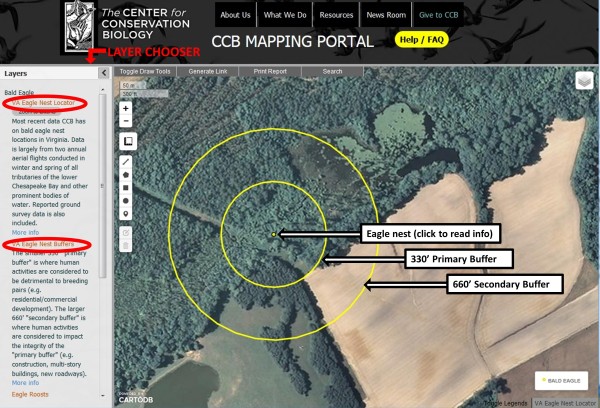 Clicking on the nest point will open a dialogue box with that nest's information:
Nest Code – unique nest identifier
Coordinates – longitude and latitude
Last year Occupied – indicates an occupied territory for that nest. A breeding territory is considered to be "occupied" if a pair of birds is observed in association with the nest and there is evidence of recent nest maintenance (e.g. well-formed cup, fresh lining, structural maintenance).
Last Year Checked – This field lists the last year the territory was surveyed.
County/City – county or city where the nest is found
Click here to go to the CCB Mapping Portal >>
Map and Data copyright of The Center for Conservation Biology @ ccbbirds.org
For more information on using the Mapping Portal, visit the Mapping Portal FAQ page.
If you are interested in accessing Eagle Nest Locator data, read the CCB Data Distribution Policy.
---
Help CCB by Reporting Eagle Nest Locations
Despite our best efforts, an unknown number of eagle nests go unrecorded each year. This is particularly true in the Piedmont and mountains of Virginia where the survey does not cover. We believe that the public knows of many nests that are unknown to us. All active or recently active nests known to CCB (surveyed in last year's Annual Bald Eagle Survey plus reported with confirmed location) are presented in the eagle nest locator. Please view nests in your local area and report nests known to you that do not appear. Visit our Report a Nest page for instructions. Thanks for your help!
---
Annual Survey
The data contained in the VaEagles Nest Locator comes directly from Virginia's annual bald eagle survey. Breeding eagles have been surveyed annually in the lower Chesapeake Bay since 1956. The 2013 survey represents the 58th consecutive survey. Each year CCB biologists fly a nest survey in February and March to map eagle nests and to determine their activity status. This survey is followed in late April and May by a productivity survey where chicks are counted in each nest. The survey covers all tributaries of the lower Chesapeake, as well as, other prominent bodies of water and requires more than 100 hours of flight time in a high-wing Cessna. Biologists survey all known nest structures to determine their activity status and search for newly established nests. During the 2011 breeding season, CCB surveyed more than 1000 nest structures and documented more than 730 breeding pairs that produced more than 980 chicks.
---
Regulatory Contacts
Bald Eagles are sensitive to human disturbance. Since the 1970s nest sites have been managed using a combination of spatial buffers and time-of-year restrictions. Human activities that are considered to be detrimental to breeding pairs (e.g. residential, commercial, and industrial development, logging, use of toxic chemicals) are restricted within a "primary buffer" and human activities that are considered to impact the integrity of the primary buffer (e.g. construction of high-density developments, multi-story buildings, new roadways) are restricted within a "secondary buffer". Time-of-year restrictions are used to limit direct human activities (e.g. recreational activities, logging, mineral exploration, low-level aircraft operations) within buffer areas that may disturb eagles during sensitive periods of the nesting cycle.
The Virginia Department of Game and Inland Fisheries (VDGIF) has legal jurisdiction over issues relating to bald eagle protection. The VDGIF, through its environmental services section, reviews proposed projects from government agencies and private individuals to identify possible impacts. Such reviews are encouraged and usually result in a considerable savings in time and money to the landowner. The two agencies listed here are the lead agencies for bald eagle reviews and recommendations in Virginia.