By Bryan Watts
10/4/2021
The 2021 breeding season was mixed for peregrine falcons in Virginia. The population produced 68 young falcons. This is the highest number of young ever known to have been produced in the state and resulted in a reproductive rate of 2.3 young/pair. The high productivity was driven by six 4-young broods and one 5-young brood. Of 63 eggs followed through to fledging, 52 (82.5%) hatched and all of the 52 young survived to banding age. However, the known population declined from a record high 32 pairs in 2020 to just 29 pairs in 2021. The population has been hovering around 30 pairs for the past six years.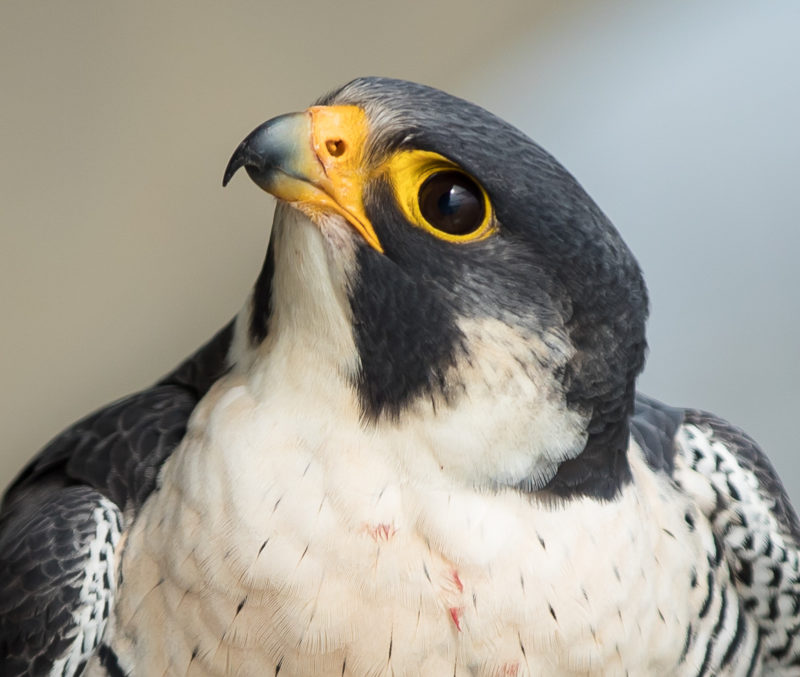 One of the high notes for the 2021 season was the documentation of five breeding pairs in the mountains. Restoration of the historic population in the mountains of Virginia continues to be one of the primary objectives for the peregrine program in the state. Five breeding pairs is the most recorded since reintroductions began in the mountains in 1985. We are hopeful that these territories will be consolidated in 2022 and that the upward trend will continue. A focus for 2022 will be a broader survey of quarry sites throughout the Piedmont.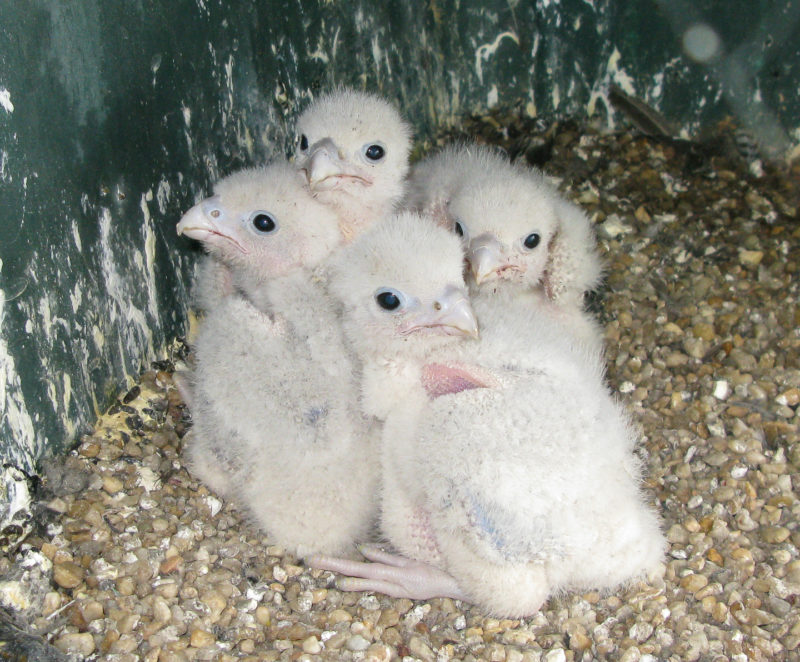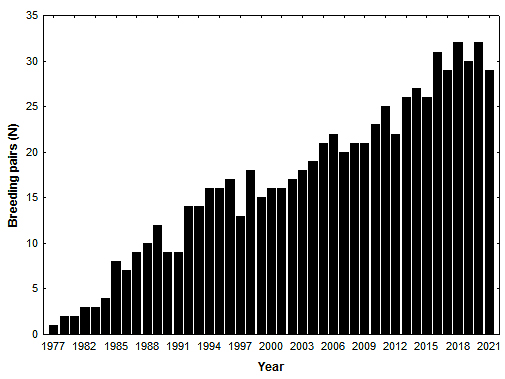 Several observations were of note during 2021. The breeding male on the James River Bridge is now in his 20th year, pushing the limits of longevity for the species. A second-year male was present on the nesting tower near Saxis, Virginia during both April and May but no mate was detected. Young falcons were recovered from the ground just after fledging from the Reston, Richmond and Berkley pairs. Birds were taken to rehab facilities and later released. Reese Lukei monitored the young produced on the Armada Hoffler building almost daily and determined that the bird occupied the natal territory up to 54 days after fledging. This post-fledging residency is just a few days higher than the mean residency of 47.2 days that we have determined from satellite tracking work in the past.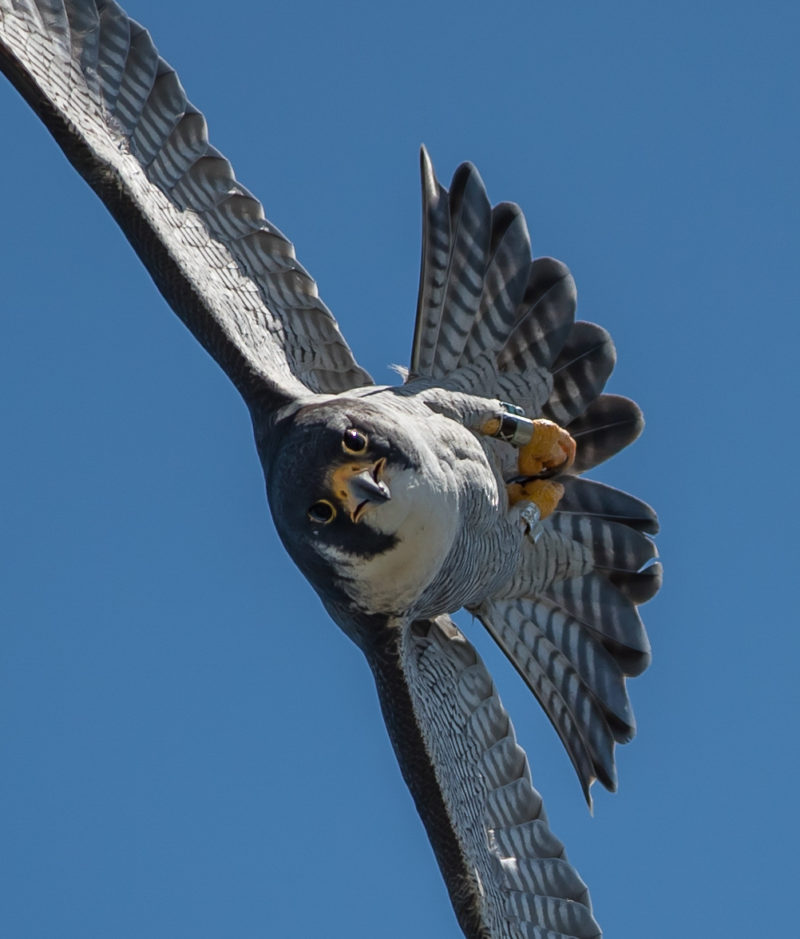 For the 22nd consecutive year birds were translocated from the coast to the mountains. Four young falcons were moved from the Mills Godwin Bridge to Shenandoah National Park and placed in a hack box on Franklin Cliffs. All birds were successfully released and dispersed from the site.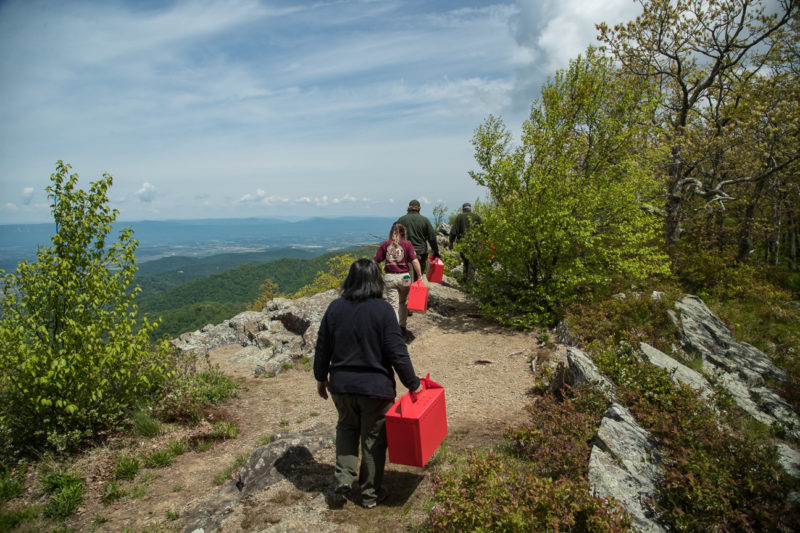 Managing this widely distributed population would not be possible without an entire community of dedicated peregrine people.  Funding and support was provided by the Virginia Department of Wildlife Resources and The Center for Conservation Biology.  We thank the many watchers, managers, and administrators who have made, and those who continue to make, significant contributions to the continued recovery of the population.