It has been well established that the Chesapeake Bay region in the U.S. mid-Atlantic is a favorite foraging area not only for resident bald eagles, but also for those that migrate into the Chesapeake Bay from the south in summer, and those that migrate from the north in winter.
Based on the draft of the "Virginia Bald Eagle Conservation Plan" prepared by Dr Bryan Watts at The Center for Conservation Biology (CCB), the northward migration of southern bald eagles begin to arrive in Chesapeake Bay in early to mid-May and peak by mid-July. They leave by the end of September. The southward migration of northern bald eagles begins before water bodies freeze in northern latitudes and begin arriving in the Chesapeake Bay region in November with the peak reached in January. These northern bald eagles have moved back northward out of the Bay by late March.
An example of this annual migration by a northern bald eagle is "Aroostook" who was banded and fitted with a satellite transmitter by CCB at Aberdeen Proving Ground (APG) in Maryland on January 26, 2008. Aroostook is a large female that was trapped and banded as part of a project to monitor the movement of bald eagles in the upper Chesapeake Bay. Aroostook is a northern bald eagle and has her own web page at www.wildlifetracking.org.
On March 7, 2016, Aroostook (whose transmitter is still sending signals) began her northern migration leaving the upper Chesapeake Bay near Aberdeen. By March 14 she was in Millinocket, Maine (map 1). By March 24 she had crossed New Brunswick, Canada and the St. Lawrence River into Quebec (map 2). As of April 2, Aroostook is back at her breeding territory south of Shabogamo Lake in Labrador, Canada (map 3). She has migrated more than 1,100 miles each way for the past nine seasons. Click on maps to enlarge.
APG Game Warden Bart Roberts holding Aroostook on January 26, 2008 – photo by Libby Mojica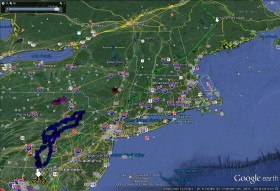 Map 1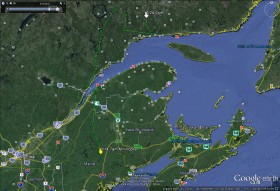 Map 2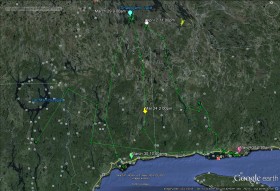 Map 3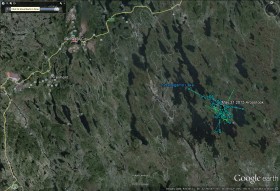 Aroostook breeding territory