On March 10, 2014 an adult male bald eagle and a juvenile bald eagle fell to the ground with their talons locked into a yard off Head of River Road in Chesapeake, VA. The juvenile and the adult were captured by the property owner. Both eagles  were taken to Pearl Beamer, a rehabilitator in Norfolk, who found no injuries. Pearl also had an adult female bald eagle in her care and on March 16, 2014 the three eagles were taken out to a large farm field off Head of River Road. The eagles were banded on the right leg with USGS bands and the left leg with Purple bands used by the Center for Conservation Biology to identify eagles from the Chesapeake Bay region. The adult male that had fallen into the yard on March 10 was banded purple "KX".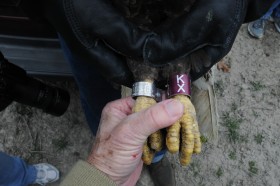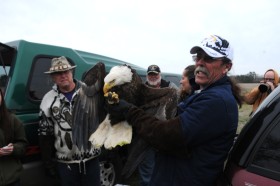 Above photos copyright Reese F Lukei Jr.
For several years Brian Lockwood has observed an occupied and active bald eagle nest (PQ1001) near his Poquoson, VA home. The resident pair there have been produced young for five of eight years, but do not appear they will be successful this breeding season. In February 2016 Brian captured images of a purple banded male attempting to mate with the resident female. This "rogue" male intruder has been identified as purple banded "KX". Thanks to Brian for permission to use his photos which he has also posted on his Facebook page.