Bald eagle with purple leg band "HE" was found dead on the ground at Joint Expeditionary Base Little Creek-Fort Story on the morning of January 6, 2016. Her only injury was to her head. The cause is unknown although likely she flew into something. Here is the known life story of this female bald eagle from Norfolk Botanical Garden (NBG) in Norfolk, Virginia.
Her egg was laid in the nest on February 17, 2009 – Photo from NBG/WVEC Live Web Cam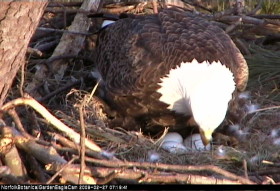 She hatched on March 25, 2009  Seen with older siblings HH (Azalea) and HK – Photo from NBG/WVEC Live Web Cam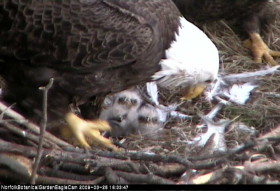 She was banded on April 22, 2009 by Dr Bryan Watts, Libby Mojica and Reese Lukei, Jr from The Center of Conservation Biology with USGS band on right leg #679-01344 and purple band HE on left leg. Photo by Reese F Lukei Jr.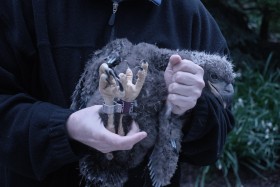 During flight practice above her nest on June 2, 2009, HE landed too far on the side of the nest and slowly fell backwards off the nest (caught on live web cam) and landed on the ground. She was rescued by Reese Lukei, Jr and Joe Foreman. She had no injuries and with assistance from Nuckols Tree Care HE was returned to her nest on June 3, 2009. During the return her sibling brother HK fledged (took his first flight) from the nest.
Photo by Reese F Lukei Jr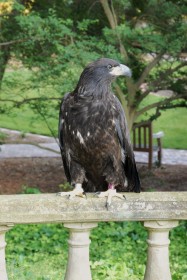 HE took her first flight on June 8, 2009 and stayed around NBG for about a month learning about being a bald eagle from her parents.  Young bald eagles can wander far and wide during their first years and it is not known just where her journey took her. However, on March 17, 2012 she was photographed by Robert Mislan behind Rosemont Forest Elementary School in Virginia Beach with another sub-adult – HE is on the right with wings spread.
HE was photographed again on December 27, 2012 over Honey Bee Golf Course in Virginia Beach by Duane Noblick. Notice the difference in plumage as a result of molting new feathers during the summer months.
The next that was seen of HE was when she showed up in fall 2014 at a nest in Hunt Club Point off Lake Whitehurst in Norfolk, VA which was being constructed by her father who is known as "Dad Norfolk". Here is a photo of HE taken by Carol Senechal at the nest on May 4, 2015.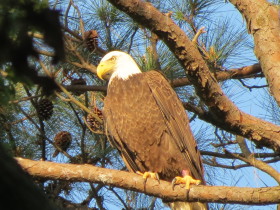 HE and her father successfully mated and raised one eaglet (known as Wilson). This is a photo by Reese F Lukei Jr of their offspring taken shortly after it fledged, about one block from its nest on May 30, 2015.