The bald eagle Camellia from Norfolk Botanical Garden in Norfolk, Virginia hatched on March 11, 2010. His egg was laid on January 31, 2010. Camellia was banded with purple band "NC" on March 31, 2010 and fitted with a solar powered satellite transmitter on May 5, 2010 by the Center for Conservation Biology. He fledged from his nest on May 27, 2010. His satellite transmitter began losing power during periods of cloudy weather in 2014. The last signal received was on February 11, 2015, and that was very weak. During the 4 years and 8 months his transmitter sent signals, Camellia traveled about 7,700 miles from Norfolk Botanical Garden to the Potomac River in northern Virginia to Currituck County, NC. His last signal came from rural Virginia Beach near Morris Neck Road and Nanney's Creek, a place he visited several times. HAPPY BIRTHDAY CAMELLIA!!
Camellia (NC) being fed March 12, 2010. ND hatched March 13 and NE hatched March 15. Photos NBG/WVEC Web-cam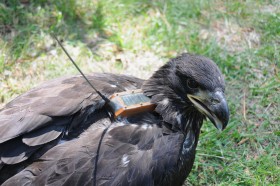 Camellia fitted with brand new satellite transmitter May 5, 2010. Photo – Reese F. Lukei, Jr.
Camellia June 7, 2014 in regal pose. Photo courtesy James R. Deal