It appears that the satellite transmitter that Camellia is wearing has sent its final signal. A combination of factors has contributed to the failure of the solar battery to charge sufficiently to transmit a signal. (1) The solar battery has an average life of three years. The battery in Camellia's transmitter was activated on May 5, 2010, the day he was fitted with the transmitter. The transmitter was active for more that 4 years and 8 months. (2) During the winter months the days are shorter and thus there is less sunlight to charge the solar battery. And (3) for the past three months there has been an unusual amount of cloudy weather (like today).
Here are some facts about Camellia:
Egg laid in nest at Norfolk Botanical Garden January 31, 2010
Hatched March 11, 2010
Banded March 31, 2010
Transmitter fitted May 5, 2010
Fledged May 27, 2010
Distance flown through December 28, 2014 – 12,569 km or about 7,670 miles
Farthest flight north – the Potomac River
Farthest flight south – Currituck County, NC
The last signal received was on December 31, 2014 at Noon in Chesapeake south of Military Highway (Rt13) near Colony Manor – PURPLE pin.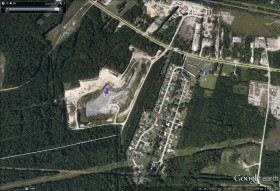 Camellia on March 31, 2010 on day banded as Purple NC – USGS band # 0679-01370, and on May 5, 2010 with transmitter. Photos by Reese F Lukei Jr.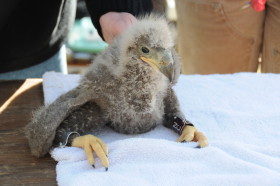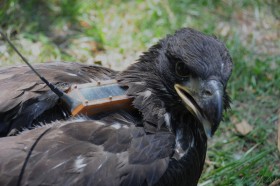 Camellia in flight on June 2, 2010 after fledging at Norfolk Botanical Garden. Photo by Michele Fowler.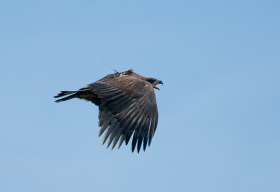 Photo of Camellia in Virginia Beach on August 8, 2013 by Jim Yanello.