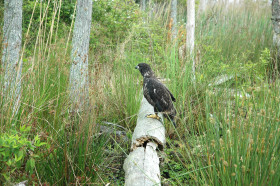 Mackay Island National Wildlife Refuge May 1, 2006 – Photo by Reese F Lukei Jr
On May 1, 2006 the law enforcement officer at Mackay Island National Wildlife Refuge noticed that the bald eagle nest in the impound had fallen out of the nest tree following a storm. Tim Cooper, refuge manager, called me and he and I went into the impound in the refuge "mud cat" searching for the bald eagle nestling that had been in the nest. After sludging about in the watery impound for a few minutes we located the juvenile standing on a log (photo above).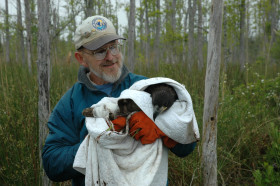 I picked up the eagle (photo by Tim Cooper) and took her to Lisa Barlow, raptor rehabilitator. An examination disclosed no injuries from the fall of the nest. After two days of care by Lisa, the eaglet was returned to Mackay, measurements taken and banded with US Geological Survey band #0629-26058.
Photos by Melinda Lukei
A platform nest was constructed by Tim Williams of the refuge maintenance staff and erected on a pole on a dike road close to the original tree nest. With the assistance of Dominion Virginia Power and their lift truck, manager Tim Cooper placed the juvenile eagle in the platform nest.
Photos by Reese F Lukei Jr
On May 7, 2006 the juvenile bald eagle, now named STERLING by the school children at Knotts Island Elementery School, took her first flight.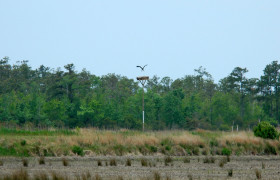 Photo by Reese F Lukei Jr
On November 28, 2011 STERLING was photographed at Honey Bee Golf course by Pam Monahan with the male bald eagle banded HK from the Norfolk Botanical Garden.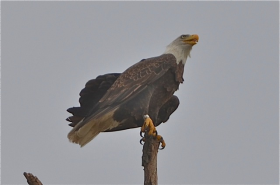 For the past two breeding seasons, several photographers have been attempting to get a clear photo of the band on the right leg of the female seen frequently with HK. Many photos have been taken of the pair – mating by Pam Monahan on Feb 08, 2014, in flight by Duane Noblick on Feb 23, 2014, in the nest at Honey Bee by Reese F Lukei Jr Feb 17, 2014.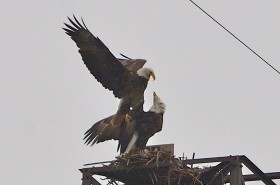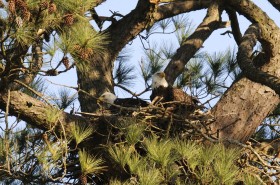 The first part of the band number on the female had been photographed by Jim Deal, Mike Inman, Duane Noblick, Beverly Nettleton and probably several other photographers. Finally after more than two years, Jim Yanello was able to capture a photo of the last three digits of the band number 0629-26058 on September 9, 2014, confirming that this is STERLING, the female rescued at Mackay Island National Wildlife Refuge on May 1, 2006.