Bald Eagle HK is the brother of Azalea who was banded purple HH. Both were born at Norfolk Botanical Garden in 2009. Azalea was fitted with a satellite transmitter and we followed her movements on www.ccbbirds.org/news-room/blogs/eagletrak-blog/ from the time she fledged on June 13, 2009 until March 17, 2013 when her transmitter stopped sending a signal on the western branch of the Elizabeth River near Bower's Hill. Therefore, it is not known just where Azalea is today. We do know where her brother HK is today. He has built a nest on the Honey Bee Golf Course in Virginia Beach. For the past two seasons he has been courting a banded female, but for whatever reason the two of them never finalized their relationship. HK is now a full adult so perhaps his romantic advances will be successful this coming breeding season, which is still a few months away. HK is remaining close to his nest territory. Yesterday, August 14, 2014, Jim Yanello captured the photos below of HK flying at Honey Bee. Take note of the primary and secondary wing feathers (remiges). The lighter brown feathers are old, longer and weather worn. HK has begun to molt in new adult darker brown feathers and by the end of summer may have all new adult feathers.
This morning, Aug 15, I located HK behind Rosemont Forest Elementary School eating a fish across the narrow North Landing River. This is a favorite fishing site for HK and at times other bald eagles as well. HK was there alone this morning.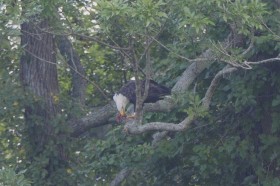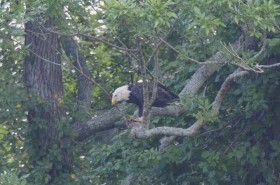 Photos copyright Jim Yanello and Reese F Lukei Jr.