In 2013 a milestone was reached for waterbird populations that depend on the Chesapeake Bay when a comprehensive, state-or-the-art monitoring plan was completed. Written by Center for Conservation Biology director Bryan Watts, the plan gives an ecological assessment of more than 140 species that depend on the Bay and addresses three fundamental questions including 1) What are the monitoring needs for waterbirds within the Chesapeake Bay?; 2) How are these needs being addressed by existing programs?; and 3) What programs should be expanded or established to address unmet needs?

The Chesapeake Bay is one of the great estuaries of the world and plays an important role in the life cycle of many bird species. Each year, the Bay attracts millions of birds from throughout the western hemisphere. Dependency on the Bay varies from species that stopover for a few days during migration to species that live out their entire life cycle within a single tributary. Many species that depend on the Bay are of high international, national, or regional conservation concern. For these species, the Bay is strategically important and may serve a vital role in the recovery of imperiled populations. Because many waterbirds are top consumers and collectively require a broad array of resources they represent sensitive indicators of overall ecosystem health.
A large number of government agencies, universities, NGOs, corporations, and private citizens participate in waterbird counts annually within the Chesapeake Bay. Count objectives, time horizons, methodologies, geographic coverage, and species involved vary from project to project producing a patchwork of information. With some notable exceptions there is little coordination between efforts making it difficult to use this information to address Bay-wide questions. With the emergence of regional and national bird conservation plans and the completion of state comprehensive wildlife conservation strategies it has become increasingly important to seek opportunities to integrate efforts such that information collected may contribute to identified information targets for priority species.
The plan is one of the first to include seasonal integration and brings the Bay in line with other plans that cover some of the world's great water bodies. Funding for the effort was provided by the Virginia Department of Game & Inland Fisheries and input was provided by resource agencies from both Virginia and Maryland. An unillustrated form of the plan is now available online and plans are being made for an illustrated print version to be available sometime in 2014.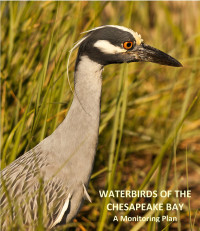 Download Waterbirds of the Chesapeake: A monitoring plan
Written by Bryan Watts | bdwatt@wm.edu | (757) 221-2247
January 3, 2014