Help support Project OspreyTrak by adopting an osprey on wildlifetracking.org. Adoptions make excellent holiday gifts for bird loving friends and family!
Rice
Rice successfully reached his wintering area on the Rio Magdelena, Columbia after 23 days of migration through the southeastern US, Cuba, Haiti, and the Dominican Republic. We expect him to stay in a small area (5-10 square km) until he leaves in February/March 2014 to migrate back to Virginia.
---
Thurston
Thurston is well and truly settled on Merritt Island, FL. Initially we thought he needed a few days to refuel before continuing migration south but he's been at the same section of the island since September 19th and doesn't show indications of moving further south. According to our colleague Rob Bierregaard, this is rare but not unheard of in transmittered osprey. There is a non-migratory population of osprey in Florida and typically osprey breeding in higher latitudes migrate further south than Florida.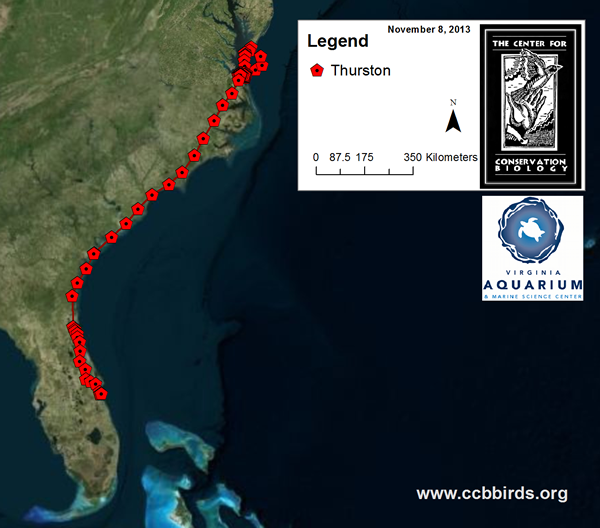 ---
Jett
It's now been 6 weeks since we last heard from Jett and we've had to declare him lost at sea. His fall migration went smoothly until he reached the Dominican Republic where he had to wait until a front with 80 mph winds moved through before continuing south. He launched over the Caribbean Sea SW towards the Columbia coast. At the start of the flight he had a promising tailwind but then the wind changed direction becoming a crosswind and finally a headwind. After 26 hours of flying we lost his signal.